Upcoming outings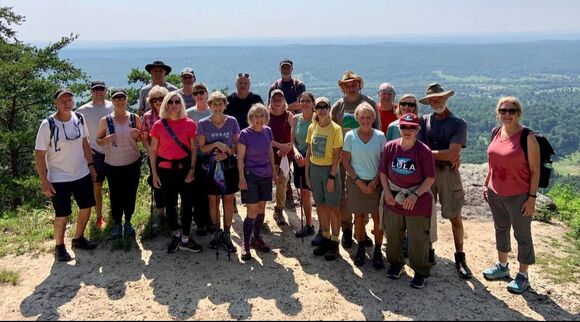 Club Members get advance emails for hikes.
Not a member yet? Click here today!
---
Saturday, October 7th

Ritchie Hollow Trail to Snooper's Rock

Location: Pot Point/ Prentice Cooper State Forrest

​Driving Time: 20 min
Distance: 8 miles
Rating: Moderate-Strenuous
Elevation Gain: 1,476
Pace: Standard-Moderate
Trail Conditions: Good
Hike Leader: Barbara McCollum

We'll begin the hike on the Ritchie Hollow Trail to Snooper's Rock which is actually in the Prentice Cooper State Forest. As we meander through a mature hardwood forest, we'll make a quick stop at the stunning 30-foot Blowing Wind Falls and then continue towards Snooper's Rock where we'll connect with the Cumberland Trail System's Pot
Point Loop Trail before getting to our turnaround point. We'll break at Snooper's
Rock for snack/lunch, photos, and to enjoy the view of the Tennessee River.
We'll return to our cars via the same route. Built by the Tennessee River Gorge
trust in partnership with others, some of the nontechnical portions of this trail was
built by volunteers from the Chattanooga Hiking Club. Onlyinyourstate.com
(Tennessee) rates this trails as one of the best hidden gems in southern
Tennessee. Please contact Barbara McCollum at bpmccollum@yahoo.com to
register and get more detailed information.
---
Sunday, October 22Durham Trails on Lookout Mountain
Distance: 8.3 mile loop
Elevation: 900' elevation gain
Rating: Moderate
Pace: Standard 2 mph pace
Hike Leader: Jenny Hopkins
Need $5 exact for parking fee, or an annual GA parks pass.
*Please email the hike leader at
jenhop60@gmail.com
to register and get details.
---
Saturday, October 28th *This hike is full.
Spence Field Day Hike
Great Smoky Mtn National Park
Total Mileage : 13.5 miles
Elevation Gain : 3000 ft.
Rating: Strenuous
Pace: Standard
​Hike Leader: Susan Faidley

Some of the nicest views of the Smoky Mountains are from Spence Field, which is an
Appalachian grassy bald. The Appalachian Trail runs right through it, and and there are great views of Rocky Top and Thunderhead, which are two well-known peaks. This has long been a club favorite! Beginning in Cades Cove, we will pick up the Anthony Creek Trail and begin our 5.2 mile climb. After a nice rest and lunch in the beautiful soft grass, we then follow the Appalachian Trail 2.9 miles to Russell Field. Our descent to complete our loop will take us down Russell Field Trail. We might have to add a little mileage to our hike along the roads of Cades Cove to reach our trailhead and return to the parking. This is a strenuous hike, both for mileage and for elevation gain. However, we will hike it at a standard hiking pace of approximately 2 mph with extra time included for climbing . We will leave town early to ensure a nice long day is available for
hiking. The driving time from Chattanooga is 2.5 hours one way.
​
*Please email Susan Faidley at susanf.chchiker@gmail.com to register and get details (time, location, etc.)
---
Sunday, November 12th
​Bear Creek Backcountry Trail at Cloudland Canyon

7.3 miles
1,300' elevation gain
Rated moderately strenuous
Need $5 exact for parking (or annual GA parks pass).
Please email Jenny Hopkins at
jenhop60@gmail.com
for meeting time and details.